At this time of year, I usually take the time and look over what curriculum is working for our family and what is absolutely not working. I take notes and start looking for the next years curriculum choices.
For those of you who have been wanting to know more about this program,
All About Spelling
is a great Program that is a:

A Complete, Comprehensive Spelling Program
Seven levels
No gaps
Multisensory lessons using sight, sound, and touch
Continual review
Teaches one concept at a time
Mastery-based
Orton-Gillingham methods combined with the latest research
What Do You Get with the All About Spelling Program?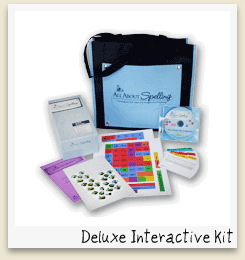 Our curriculum is multisensory, and every lesson takes advantage of the items in our Interactive Kit.
The kit is a one-time purchase
Used in all seven levels
The kit contains:
Letter Tiles
Phonogram CD-ROM
Spelling Review Box
and more!
Who Is All About Spelling For?
This program is for two groups of learners:
Beginners
Struggling Learners
Some of the benefits of our program:
Lessons are interesting and easy to remember
Student learns exactly how to use letters to represent all the sounds of the English language
Letter tile activities make spelling concepts "concrete"
Our exclusive sequence will turn on the lightbulb for your student

All About Reading

is a fun and engaging program that starts with essential pre-reading skills and continues on to teach all five key components of reading. It contains everything your student needs to become a fluent reader for life!
Powerful teaching methods are at the center of

All About Reading

.

Multisensory approach
makes it easy for kids to understand

Built-in review system
helps learning stick

Kids look forward to reading lessons because of the
motivating, hands-on activities

This
mastery-based, building block program
works with kids who have learning disabilities as well as those who do not

Our
explicit teaching
helps students succeed
Their Guarantee

You have one full year to try out

All About Reading

. Go ahead and use it! If it doesn't meet your needs for any reason, simply return the materials within one year for a full refund of purchase price.
This return policy applies to anything purchased through All About Learning Press. Purchases made through other websites and store may be subject to different return policies.
All of this information can be found on their website as well as ways to order. CLick on any of these links to get you there :D