Our Family loves listening to Adventures in Odyssey.
This is great for Character study and Bible memorization. You can link your bible verses to the lesson of the day etc. We listen online because the radio that would most likely play, doesn't do it on days we can listen-in. They are great for Clean Family Fun. What I like most about this radio drama, is that it stimulates children's imagination and thinking skills while keeping God the main subject with heart pulling stories. Often times, I am the one that is crying at the end of the drama and the kids are looking at me blank, blinking their batted lashes and thinking I am the weirdest thing yet! But I love it anyway....hey, at least they know I am a real person ;D You can listen for FREE online at
www.whitsend.org
Another Great resource for some OLDER Children radio Drama is Radio theatre from the same company who does Adventures in Odyssey, Focus on the Family.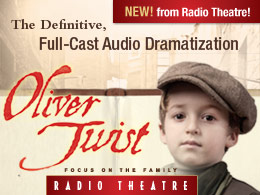 I say Older Children because of the realistic portrays of these Radio Dramas. Also, it could really help them in developing a better understanding of some of the book studies they have been doing etc. For instance in Oliver Twist, if your child has read the book, he can follow up with a Radio Drama, or maybe this could replace a book for your child.
You can google an audio book; Here is a quick link for free ones for Oliver Twist:
I personally adore these Radio Dramas and look forward to listening to them all the time.
You can listen online for FREE here:
Here is one that I just recently found;
This is a missionary-based adventure. Super Great for fostering a love for God's work! You can couple this with stories of missionary's and timeline them in a timeline book for socials. I really love this series too and it is fairly new. You can just check the website out for a FREE episode here:
http://www.brinkmanadventures.com/
I just stumbled across this one,
I am sure it is wonderful. Unfortunately, I don't know much about it though? I believe some also come in Spanish...you can tie this one into a Spanish lesson! Here's the direct link:
http://www.insight.org/pawsandtales/
I guess there is another one called the Lamp Lighters as well!
Let me know what you think or if it's your favourite.
Don't forget to subscribe for all these great tid-bits to come directly to your email every time I post :)